WATCH VIDEO: Gambia President Jammeh Leaks Phone Conversation With Liberian President Ellen Johnson
January 17, 2017, 11:50 pm
President Yahya Jammeh of The Gambia pulled a fast one on his Liberian counterpart, Ellen Johnson Sirleaf, on Monday, January 16, 2017 as he released the video recording of a telephone conversation between the both of them without giving her prior notice.
Sirleaf is the chairperson of the Economic Community of West African States, ECOWAS, which is leading the charge in mediation between Jammeh and the winner of the December election, Adama Barrow, the opposition candidate.
Read also ... . Four Gambia Ministers Resign From President Yahya Jammeh's Government
Despite conceding early, Jammeh made an about-turn and has since rejected the result of the poll, even annulling the poll.
In the leaked conversation, Jammeh pleaded with Sirleaf to convince West African leaders to allow judges from other West African nations step into the legal process in Gambia to listen to his petition against Barrow's victory.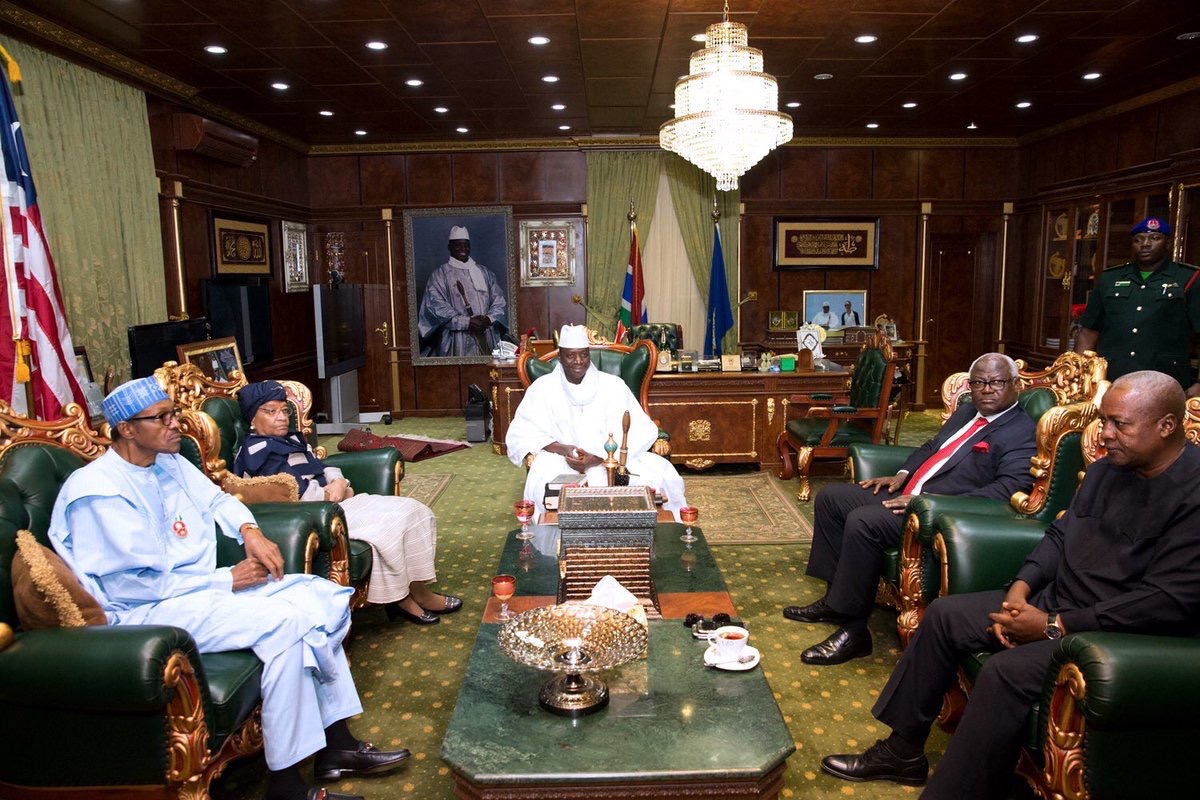 Ms. Ellen Johnson Sirleaf, President of Liberia and President of ECOWAS, in the company of Muhammad Buhari of Nigeria, Ernest bai Koroma of Sierra Leone and John Mahama past president of Ghana met with outgoing president Yahya Jammeh on Tuesday in the Gambia to try out of the crisis and to reason the loser president who has flip-flopped a week after having previously conceded defeat and call his challenger Adama Barrow to congratulate him. | PresAfrik
Jammeh, who has ruled the country for 22 years, said that he wants the constitution of the Gambia to be obeyed, and that the proposed January 19th handover date is not "set in stone."
Sirleaf advised Jammeh to put his request in writing, saying that such a move will "go a long way." Her suggestion to him has been interpreted by some as an attempt to support him.
Following the leak of the conversation however, Sirleaf spoke to the BBC, emphatically stating that "there is no change in ECOWAS position."
Follow us on Twitter @theglobengr
Like this story? Get on the list for updates...it's FREE!.