The London Terror Attack: Seven People Have Been Killed
Seven people have been killed in central London after three men drove a van into pedestrians on London Bridge and launched a knife attack on people enjoying a Saturday night out in pubs and restaurants around Borough Market.
Police have declared it a "terrorist incident".
Here is what we know so far.

What happened?
Armed police and ambulances were called to reports of a white van hitting several people on London Bridge at 22:08 BST on Saturday.
The area and nearby railway stations were closed. The van mounted the pavement and swerved into a number of people.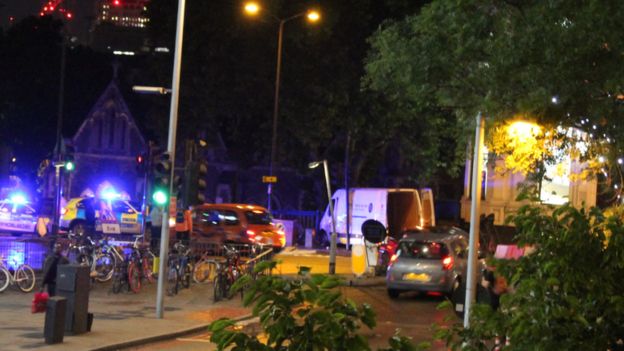 Image captionThe white van, in the centre of this photo, is believed to have been used in the attack on London Bridge
BBC reporter Holly Jones, who was on the bridge, said: "A white van driver came speeding - probably about 50mph - veered off the road into the crowds of people who were walking along the pavement.
"He swerved right round me and then hit about five or six people."
The vehicle continued to drive to nearby Borough Market, where the suspects got out and stabbed several people in an area crowded with people having an evening out.
Eyewitnesses spoke of attackers targeting people in pubs.
One witness, Gerard, told the BBC: "They were running up shouting, 'This is for Allah.' They stabbed this girl maybe 10 times, 15 times."
He said he tried to stop them by throwing bottles, chairs and other items.
Media captionWatch: How the attack unfolded
The Metropolitan Police confirmed seven people had died and 48 required hospital treatment.
In addition, three suspected attackers were shot dead within eight minutes of officers receiving the first incident report.
British Transport Police said one of its officers was seriously injured responding to the attack.
A third police unit was sent to the Vauxhall area. Officers later said this was a stabbing and not connected to the operation at London Bridge and Borough Market.
London Ambulance Service took more than 100 emergency calls about the attack.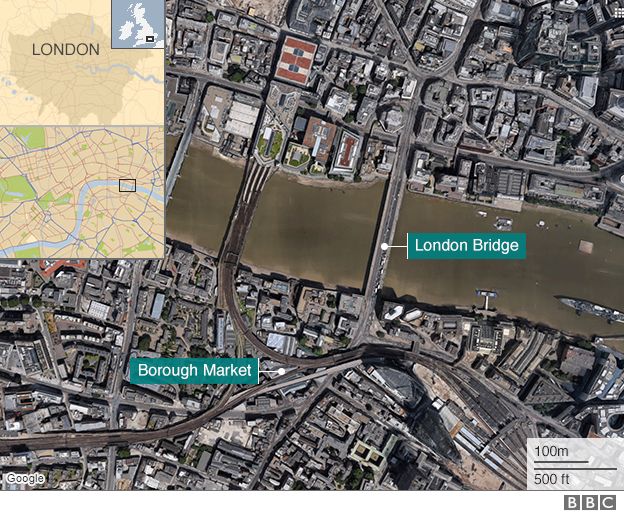 The victims
None of the seven dead have been named.
Some of the injured are in a critical condition.
The "seriously injured" British Transport Police officer suffered head, face and leg wounds, but his life is not in danger.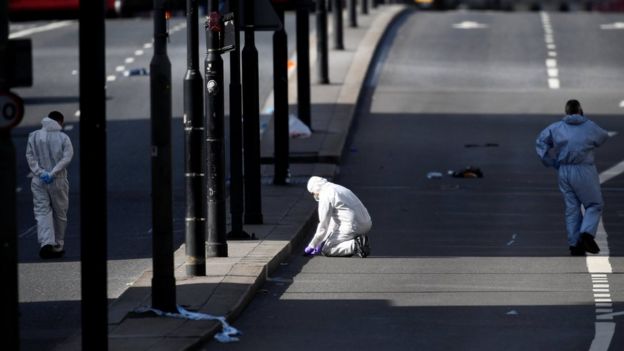 Image copyrightREUTERS
Image captionPolice forensics investigators are gathering evidence on London Bridge
Police boats have been searching the River Thames for anyone who might have fallen from the bridge.
The Metropolitan Police has opened its Casualty Bureau for people concerned about friends or relatives.
Two French citizens are among the injured and one is seriously hurt, according to a statement from the French president's office.
Two Australian citizens "have been directly impacted", says the country's Prime Minister Malcolm Turnbull.
The attackers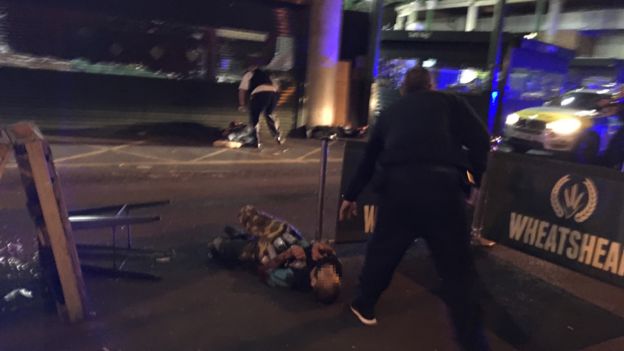 Image copyrightGABRIELE SCIOTTO
Image captionGabriele Sciotto's photo appears to show a man with canisters around his waist
Three men, believed to be the attackers, were shot by police at Borough Market.
A photographer took a picture showing people lying on the ground outside the Wheatsheaf pub - one of whom appeared to have canisters strapped around his waist.
Police said the attackers were wearing hoax explosive vests.
The person who took the photo has described seeing three people shot by police.
One of the attackers appears to have been wearing Arsenal football shirt, according to The Daily Mail.
What is happening now?
Met Police Commissioner Cressida Dick says the incident is under control but many officers remain on the scene to ensure everyone is accounted for.
An investigation, led by the Counter Terrorism Command, is under way.
A police raid has been reported in Barking, east London. It is not clear whether it is connected.
A casualty line has been set up for members of the public who are concerned about friends and relatives. People have been told they can ring 0800 096 1233 or 020 7158 0197 but only "in a genuine emergency".
The police are also asking anyone with photographs or videos of the incident to upload them here.
London Mayor Sadiq Khan says there will be an increased police presence on the streets, but people should not be alarmed.
The UK terrorism threat level remains at severe, having been raised to critical for a short time after the Manchester attack.
London Bridge overground station will be closed all day, said Network Rail.
London Bridge and Borough underground stations are also closed, with trains are passing straight through them.
The River Thames has been reopened to boats and Southwark Bridge is no longer cordoned off.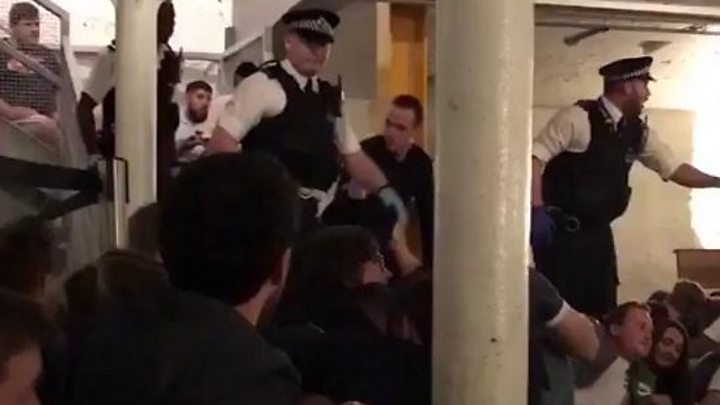 Media caption"Get down" - police enter bar at London Bridge
Reaction
Prime Minister Theresa May addressed the nation after chairing the government's Cobra emergency committee on Sunday morning.
She condemned the attack on innocent people and said it is time to say "enough is enough" when it comes to tackling terrorism.
She said the attack is not overtly connected to other recent attacks in Manchester and London's Westminster, but it was part of a new trend of people using the "crudest" methods to terrorise citizens.
Mrs May confirmed the general election will go ahead as planned on Thursday.
However, most political parties have suspended national campaigning for the day - apart from UKIP which is to continue its campaign.
Labour leader Jeremy Corbyn said "all communities must come together. Our strength is the strength of our community unity."
He agreed that the election should go ahead, as "democracy must prevail",
Lib Dem leader Tim Farron said it was a "horrific incident" and Scotland's First Minister Nicola Sturgeon called it "dreadful news".
London Mayor Sadiq Khan said: "[The attackers] are evil cowards and London will never be cowed."
US President Donald Trump tweeted: "Whatever the United States can do to help out in London and the UK, we will be there - WE ARE WITH YOU. GOD BLESS!"
Mr Trump also called for his travel ban on visitors from six predominantly Muslim countries to be upheld by US courts, where it is being challenged.
Other world leaders have also condemned the attack, including French President Emmanuel Macron who said his country "is more than ever at the side of the United Kingdom".
Source: BBC
Follow us on Twitter @theglobengr
Like this story? Get on the list for updates...it's FREE!.