New Opinion Poll Will Wake Matiang'i Very Excited
February 6, 2017, 10:50 pm
- A majority of Kenyans have expressed trust in the 2016 KCSE results in a new opinion poll
-They say the results are credible exuding confidence that they were marked correctly
Education Cabinet Secretary Fred Matiang'i has been vindicated over the 2016 KCSE results if the latest opinion poll is anything to go by.
The research by Ipsos released on Monday, February 6 indicate that 77% of Kenyans without children in secondary schools have approved of the form four exam results saying they were "very confident" of the results and that they were marked correctly.
Another 14% said they were "some what confidence" about the results while 9% said they had no confidence at all in the way the results were marked. 75% of those with a child in high school approved of the results.
The survey conducted between January 9 and 26, 2017 and which involved 2,057 respondents also indicate that 78% of Kenyans agreed that the 2016 KCSE results were worse compared to those of the previous year.
READ ALSO:  Popular Actress and Embakasi South MP Aspirant Recovering After an Attack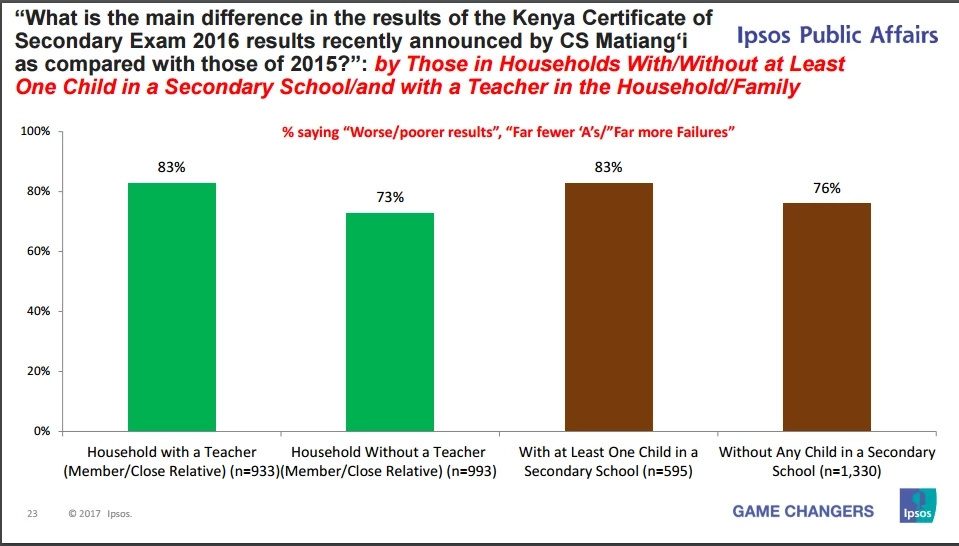 READ ALSO: Are Kenya ranch invasions driven by drought or politics? - BBC
The opinion poll showed that 90% of Nairobi residents believed the results were worse followed by 89% of Nyanza residents.
In Central, 83% of the residents also said the students did very poorly in 2016 compared to 2015 while in North Eastern, 80% were of a similar opinion while 79% in Rift Valley and Western, 74% in Eastern and 51% in the Coast all agreed that the results were worse.
The results released by Matiang'i in December 2016 with only 141 students scoring straight As compared to previous years where thousands were attaining the grade. There was no any reported case of cheating.
READ ALSO: Kenyan Bus Driver Speaks Out Against Everyday Corruption On Live TV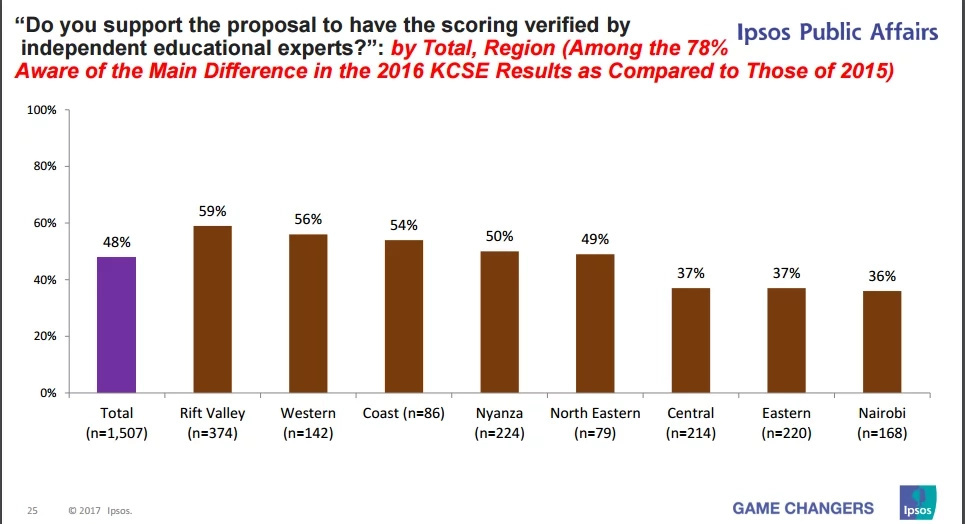 In the same results, more than 30,000 candidates scored grade E, the highest in recent history of the form four exam.
Although Matiang'i was praised for the credible results, there were terse reactions from various stakeholders who insisted the exams should be remarked.
The Ipsos survey too showed that 48% wants the results audited.
Here's a video of Matiang'i announcing the 2016 KCSE results.
via Tuko
Follow us on Twitter @theglobengr
Like this story? Get on the list for updates...it's FREE!.